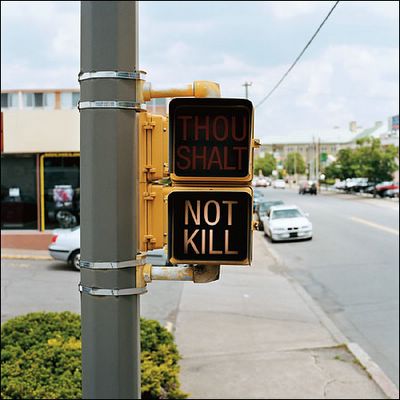 The Supreme Court on Monday upheld a federal court order against a display of the Ten Commandments on the wall of a courthouse in Kentucky. In a second case, the court found no constitutional violation in the placement of a Ten Commandments monument on the grounds of the state capitol building in Austin, Texas. So the line separating church and state is apparently somewhere between the courthouse wall and the grounds out front.
Commandment Number One:
I am the Lord thy God, which have brought thee out of the land of Egypt, out of the house of bondage. Thou shalt have no other gods before me.
How much more flagrantly religious does a monument have to be before someone decides that it doesn't belong on the grounds of a state capital building? But why stop there? If we're going to put up monuments of ancient Hebrew law, why not continue with good old Deuteronomy 17:5?
Then thou shalt bring forth that man or that woman, which have committed that wicked thing, unto thy gates, even that man or that woman, and shalt stone them with stones, till they die.
What frightens me is that might actually go over in Texas. And even though everyone claims to be all politically correct these days, giving equal time to all, I'm not expecting to see the Heart Sutra in front of the Texas capital any time soon:
Avalokiteshvara bodhisattva, while contemplating prajna paramita, realized that the five aggregates are empty and thus transcended all suffering.
Wouldn't that be nicer in front of a courthouse? How could anyone in Texas object to that?
You know they've got that thing, "Oh, well, put the Ten Commandments up, that will fix everything! Put The Ten Commandments up, that will stop school violence!" Oh yeah, kids will come to school, "Oh, thou shall NOT kill! Oh God!" If you think putting the Ten Commandments up is gonna stop school violence, then you think "Employees Must Wash Hands" is keeping the urine out of your Happy Meal (it's not!).
- Jon Stewart,
Saturday Night Live
monologue