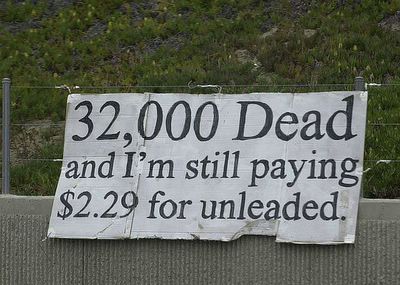 Bush gave his big speech tonight attempting to justify the war in Iraq. I can't even watch that sort of thing anymore . . . 1,750 Americans dead, another 22- to 25,000 Iraqis, and the war's still being discussed in terms of political willpower.
Earlier today, I came across some truly heartbreaking news. According to the newspaper, a woman with whom I used to work was reportedly weaving in and out of traffic at high speed last night when she apparently lost control of her pickup truck. The truck overturned several times before coming to a stop in the emergency lane. She died, along with her young daughter. Her 4-year-old son, also in the car, was taken to the hospital, where he is in stable condition.
I cannot imagine the grief her husband is going through, or the trauma her son is experiencing. There is no way to take away their pain.
I'm leaving names and other proper nouns out of this so that Google searches don't lead the grieving to this blog.
She was one of the sweetest people I've ever met. Everyone always says things like that about the recently departed, but if anyone asked me about her yesterday, that is truly how I would have answered. So sweet, you could almost eat her with a spoon. Always upbeat, always smiling, and always willing to help on a project. She was only 30 years old.
Life is like this. On a large enough time scale, everyone's survival rate is zero. The older we get, the more we see our friends and loved ones die. We begin to attend more funerals than weddings.
This blog is supposedly about the "life and strange times of a typical 50-year-old Zen Buddhist living in Atlanta." It won't be for much longer. Next month, I turn 51. But what is this life like? It's like watching tail lights fade, and that slow realization that we are truly alone. Friends go, lovers leave and coworkers die. My friend Troy - dead in a car accident at age 40, 1995. Peter in the Engineering Department - dies in the office from a stroke, age uncertain but over 55, 2000. Colleagues in other offices - heart attacks, cancers, even murders. Simon and Garfunkel once sang, "All my life's an endless stream of things I wish I hadn't seen . . ."
Family living in other states, ex-lovers now married and incommunicado, surviving coworkers my age too involved in their own lives to give much time or thought to mine, and the younger coworkers avoid the old man in the office.
That is what this life is like.