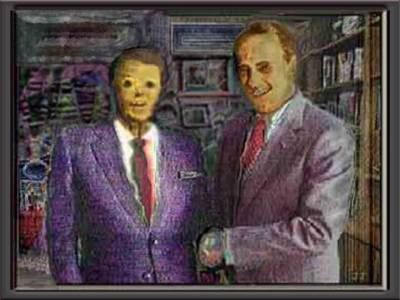 New York - Guitarist Robert Quine, one of punk rock's most daring soloists, was found dead Saturday in his Manhattan apartment. He was 61.
The medical examiner's office would determine the cause of death, but a note found with his body indicated suicide, police said. According to close friend and guitar maker Rick Kelly, who discovered Quine's body, the musician died of a heroin overdose Memorial Day weekend. He had been despondent over the death of his wife, Alice, last August. His uncle, the philosopher W. V. Quine, died in 2000.
Quine moved to New York in 1971 and became the lead guitarist for bassist Richard Hell's influential group the Voidoids, with whom he recorded two albums. His skittering, unpredictable work with Hell defined the possibilities of punk guitar. Quine was heavily influenced by the Velvet Underground, whose music he recorded obsessively while living in San Francisco. In 2001, Universal released a three-CD box of Quine's live 1969 recordings of the Velvet Underground, "The Bootleg Series Volume 1: The Quine Tapes."
During the '80s, he recorded and toured frequently with Lou Reed and appeared on Reed's "The Blue Mask" in 1982. Besides his work with the Voidoids and Mr. Reed, Mr. Quine also played with Material, James Chance and Brian Eno. Quine played on some of saxophonist/composer John Zorn's best-known albums and made key guest appearances on Tom Waits' "Rain Dogs" (1985) and Marianne Faithfull's "Strange Weather" (1987). In 1989, he began a long association with Matthew Sweet; he also worked regularly with Lloyd Cole.
He was born in Akron, Ohio and graduated from Earlham College in Richmond, Indiana. He received a law degree from Washington University law school in St. Louis. Quine, who was older than most of his punk-rock peers and nearly bald, typically wore button-down shirts and sport coats. He once said he looked like a "deranged insurance salesman."
Once upon a time I played electric guitar
And they said I was a rock-and-roll star.
Now nobody calls me on the telephone,
So I sit and watch my TV all alone.
Maybe if I put a bullet in my brain,
They'd remember me like Kurt Cobain.
And the parasites on MTV
Would wipe their eyes and act like they knew me.
But I wouldn't be a hero, I'd be dead;
Just a note beside a corpse that read
"If you like to pretend that you'll never get old
You got what it takes to rock and roll."
- The Residents