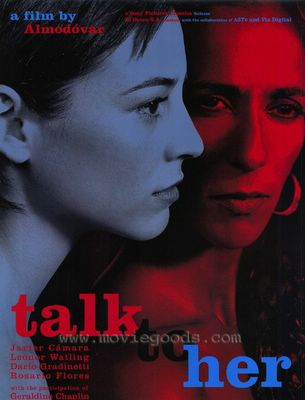 Tonight I watched Almodóvar's "Talk To Her," a truly great film, his best in my opinion. "Talk To Her" is the story of two very different men drawn together by the common task of caring for two women who have fallen into a coma, two women they love but cannot truly have. One man, a shy, seemingly asexual male nurse, looks after a beautiful ballet dancer. The other, a fortyish Argentine writer, cares for a female bullfighter. Both love affairs are imbued with fantasy. In The New Yorker, David Denby said that Almodóvar's point seems to be that you can't have love without fable — that every love affair is an improbable narrative wrung from non-being and loneliness.
Throughout the film, past and present flow together, and everything seems touched with a melancholy magic. In one memorable scene, Almodóvar creates a silent movie-within-a-movie called "The Shrinking Lover," a sort of NC-17 version of "The Incredible Shrinking Man."
Almodóvar writes, "
Strindberg's biography says that Kafka refers to him in this way: 'I don't read him to read him, but to cling to his breast.' For me, "Talk To Her" is (pardon the sentimentality) the embrace I'd like to give to all the spectators, sinking against the breast of each one of them.

"'Talk To Her' is a story about the friendship between two men, about loneliness and the long convalescence of the wounds provoked by passion. It is also a film about incommunication between couples, and about communication. About cinema as a subject of conversation. About how monologues before a silent person can be an effective form of dialogue. About silence as 'eloquence of the body,' about film as an ideal vehicle in relationships between people, about how a film told in words can bring time to a standstill and install itself in the lives of the person telling it and the person listening.

"'Talk To Her' is a film about the joy of narration and about words as a weapon against solitude, disease, death and madness. It is also a film about madness, about a type of madness so close to tenderness and common sense that it does not diverge from normality."
Alberto Iglesias's soundtrack sounds like a variation of Samuel Barber's Adagio for Strings and is very effective. A cameo by Caetano Veloso singing "Cucurrucucú paloma" is powerfully moving and one of the film's highlights. Almodóvar's delectable choice of music and his eye for detail give the movie a supremely graceful feel.