This is the picture that ran in the Atlanta newspaper today of my karate school. A 16-inch water main along Peachtree Road first leaked last January and washed a gaping hole out from under the sidewalk. The building's brick foundations washed away, and the damage worsened with successive breaks and attempted repairs.
Workers turned off water to the area Monday. They were planning to take four hours to replace a 15-foot section of the pipe, which has been in service since 1917. But one of the valves gave way early Tuesday, shooting water back into the hole that had been open since January. Water shot under the building and drained into nearby Peachtree Creek, carrying soil with it. The hole in front of the karate studio had grown large enough to swallow a car. As many as 500 homes and businesses in the Peachtree Battle and Peachtree Hills areas were without water throughout the day.
Atlanta's Watershed Management Department has jacked the building up, and now they're working on shoring up the foundation and building a retaining wall before they can get the main repaired. All this work will probably take another two or three days.
Three northbound lanes of Peachtree Road near Peachtree Creek are closed. Transportation officials have been squeezing northbound traffic into a single southbound lane except during the evening rush hour, when two of the three open lanes will be designated for northbound traffic.
The city called the rupture of the nearly 90-year-old pipe an "unforeseen catastrophe." I call it a big mess.
UPDATE:
8:27 p.m. - Driving home from work tonight, I was momentarily slowed by the traffic resulting from the Peachtree Road lane closures near the sinkhole, before I turned off onto Peachtree Battle Road and came home by way of Northside Drive. However, it's a little ironic and certainly not intended that today's post was about a triffling inconvenience, when a similar but larger calamity has occurred. I just opened the On-Line New York Times and saw this picture of a retaining wall collapse on the Henry Hudson Parkway in northern Manhattan: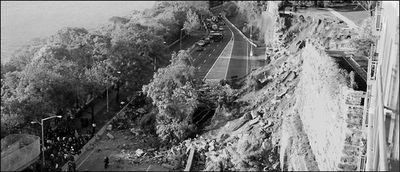 The landslide sent tons of dirt, rock and trees onto the roadway, snarling traffic for miles around and leading to the evacuation of nearby buildings. Although the Police and Fire Departments said there were no immediate reports of injuries, they are using thermal imaging gear to determine if anyone is trapped under the debris. I pray that no one was been killed or injured by this catastrophe.