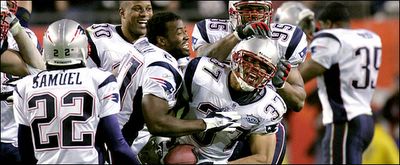 "AS ARTISTS, our work involves displacing and displaying bites of publicly available, publicly influential material...."

"THE URGE TO MAKE one thing out of other things is an entirely traditional, socially healthy, and artistically valid impulse which has only recently been criminalized in order to force private tolls on the practice (or prohibit it to escape embarrassment). These now all-encompassing private locks on mass media have led to a mass culture that is almost completely "professional," formalized and practically immune to any form of bottom-up, direct-reference criticism it doesn't approve of."
- Negativland, 1999
Negativland take their name from a track by the cult German band Neu!. Based in the San Francisco area, Negativland originally revolved around the talents of Mark Hosler and Richard Lyons, multi-instrumentalists with an ear for tape manipulation of all sorts. Their inspired stroke of genius was to recruit David Wills, more famously known as the Weatherman in later years, to make up the original trio. Mr. Wills, a cable TV repairman by trade, was just as obsessed with home recording and experimentation as the other two, and his wry, drawling vocals became the core trademark for many of Negativland's most notorious releases.
In 1981, the band recruited Don Joyce. Mr. Joyce had started a free-form radio show,
Over the Edge
, on the Bay Area's KPFA station that explored humor and social commentary much like Negativland itself. As a result, Negativland appeared on the show shortly after it began, and since then Mr. Joyce has not only been the only constant member of Negativland aside from Mr. Hosler, but
Over the Edge
has become the regular sonic testing ground for most of the band's releases, still running strong after 20 years.
In the postmodern era, where the "real thing" is irrelevant, distinguishing the "cool" from the "uncool" is difficult. Former notions of "selling out" to the capitalist market are no longer the simple litmus tests that they used to be. Nearly everything is mixed up with corporate music industry one way or another. So "cool" postmodern music, while not totally escaping the properties of commodity, is not merely filler between commercials, or a commercial in itself. In turn, it avoids the effect of turning a reader/spectator into a decentered, schizophrenic, paralyzed vegetable. "Cool" postmodernist music does not exclusively use pastiche. Parody, humor and fun are also important.
Another facet of "cool" postmodernism is an agenda of counter-hegemony. Such an agenda goes against leading hegemonic features of postmodern society including the increased power of advertising and the electronic media, the advent of universal standardization, neocolonialism, institutional xenophobia, racism, sexism, homophobia, the schizoid pastiche of the fading sense of a history, and the "consciousness industry." Baudrillard's "consciousness industry" is the new predominance of technologies and practice concerned with the exchange, promotion, distribution and manipulation of signs, from raw information, to cars, to fashion, to the images of pop stars, actors and governments, as well as the fabrication of public opinion. Counter-hegemonic postmodernist culture might offer ways of resisting or surviving its most baleful tendencies.
Negativland are one group of "cool" postmodernists who have been especially successful in going beyond even parody to play with and manipulate the texts around them, even creating "real" news fiascos to supply new ammunition for their work. The members are an anti-group -- a middle-aged polar antithesis of the Village People. They are computer programmers, graphics designers, nursery school teachers, telephone salesmen and cable TV installers. Sometimes appearing only to please themselves, other times they appear to be willfully courting adverse attention without consideration of the possible results.
Negativland play with the ambiguous, blurred distinctions between "reality" and "fiction:"
DON:
We have a definite appreciation for found stuff, even if it's our own stuff.
MARK:
When you talk about something on the radio show that's really going on with enough bizarre details that people believe that it's real, then you throw in enough things that you just made up or that fit in with what the rest of that particular show's about, then you create that weird middle zone where people don't know what they're hearing, psychodrama, or
DON:
Docu-fiction.

MARK:
Like that time I accidentally bit off a piece of my tongue on the air.
CHRIS:
But that was real.
The trio's debut self-titled release was notable as much for its packaging (each album featured individually wallpapered covers) as for its fragmented songs and textures. Apparently the still-teenage Mr. Hosler wanted it completed in part so he could feel he had accomplished something by the time he graduated from high school, a reasonable enough goal.
The next official Negativland album was the group's unquestionable breakthrough, 1983's
A Big 10-8 Place
. Negativland's first truly ambitious work was cut from literally a million tape edits to reinflate the classic story of going home to suburbia. Threaded throughout the aural collage are directions to 180-G, leading to a house in a nearby California suburb.
DAVID:
Somebody followed the directions and went there and disturbed the people who live there.
CHRIS:
Do they have a copy of the record?
MARK:
Imagine if you were this normal family in the suburbs, would you like it if you got a record album in the mail that described to the whole planet how to get to your house? It would terrify you!

CHRIS:
Talking about your dogjuice and your orange carpet and the ants in the mailbox.

DAVID:
Whipped cream on the Corvair. That was one thing left out. [long silence]

Synthesizing the band's love of aural theater and subversion of expected pop and rock approaches. When asked to do a video of
Theme from A Big 10-8 Place
, Negativland declined. According to Mr. Hofler:
"If we were going to make videos, we weren't going to turn around and make videos to our music. We'd start from scratch and make something totally new. The radio show doesn't try to be the records and the live shows don't try to be the radio shows. They're all different and they all try to utilize the medium to its best advantage."

A Big 10-8 Place
was an at once hilarious and quietly harrowing vivisection of suburbia, winning them new fans and a growing reputation. Their reputation grew to the point where they were formally signed to Greg Ginn's legendary punk label SST Records, a decision that would have unexpected consequences some time later.
Negativland decided to use the mass media itself to its best advantage after their 1987
Escape From Noise
album, which took the scope of
A Big 10-8 Place
to even wider levels, touching on everything from a rendition of
Over the Rainbow
sung by a little girl plagued with hiccups to how many time zones are covered by Russia, featuring a well-known personality at ABC who has his own talk show. The found speech on the album is examined and repeated, revealing many rhythms and melodies not apparent after one listening. A reviewer in
Greed
magazine said,
"That's the point of the album - you don't need bands to make up songs for you. They're out there happening all around, on radio talk shows & television soap operas, on playgrounds, in McDonald's, at riots, on subways . . . If you can't listen to this album, how can you even go outdoors? It's a sonic life. Live it."
Maintaining Negativland's blend of wit and darker themes, the album might have simply remained a cult classic were it not for the appearance of the throbbing, creepy song,
Christianity Is Stupid
. The song features a found sample vocal of Reverend Estus Pirkle from a sermon recorded in 1968, and consists of a loop repeating, "Christianity is stupid. Communism is good. Give up," and ends with "Shop as usual . . . and avoid panic buying." It was soon going to be used for an even grander effect.
A few months after the album's release, a teenager, David Brom, committed mass murder against his family in Rochester, Minnesota. The Broms were described as a devout Roman Catholic family, and an article mentioned that the murders may have resulted from an argument over a music tape that David listened to. Having seen tour plans fall through at around the same time, Negativland decided to send a phony press release to SST Records which attributes the cancellation of the tour to pressure from "Federal Official Dick Jordan" who has advised the band not to leave town pending an investigation into the Brom murders. The release implied the tape in question in the Brom case was their song
Christianity Is Stupid
.
Many stories soon appeared, restating the "facts" from the Negativland press release with no trace of skepticism, even though no one verified the story with the source. When Hal Eisner from KPIX Channel 5 interviewed the band, they did not comment on their link to the Brom case, but discussed the American news media, their appetite for the sensational and their tendency to create their own "news." This discussion was cut from the air, and the lead story took the purported connection for granted, and included footage of the Brom family being carried from their home in body bags. Many following stories got the "facts" wrong as a result of their dependence on other media stories as their only source material, which resulted in a slew of publicity and confusion over what the truth of the situation was.
Some condemned the group's actions as tasteless exploitation, but Negativland preferred to think of it as an examination of media assumptions, and the whole affair became the backbone of 1989's
Helter Stupid
. "It is now abundantly clear that the major source for news is other news," wrote Negativland in their liner notes for the
Helter Stupid
album.
"We all swim in an ocean of mass media that fills our minds with people and events with which we have no actual contact at all. We commonly absorb these media presences as part of our own "reality," even though any media experience consists only of one-way, edited representations of reality. Negativland uses this electronic environment of factual fictions as both source and subject for much of our work, keeping in mind that to experience a picture of a thing is not to experience the thing."

In postmodernist fashion, Negativland tossed a pebble in the mass media ocean, watched the ripples turn into tidal waves, sampled them and played them back in a sharp-witted aural collage, including the Channel 5 tapes and a call from Rolling Stone that would make any newsperson red in the face. In their version of counter-hegemony, Negativland condemns the media witch hunt that sells papers at the expense of all involved and sensationalizes the story for all it was worth without checking the facts. In turn, they condemn the "uncool" properties of postmodernist society -- information for commodity, not knowledge, lack of interaction and accountability in media, and the creation of an uncritical audience of decentered, schizophrenic spectators who will consume any bogus "facts" from the "media meat grinder."